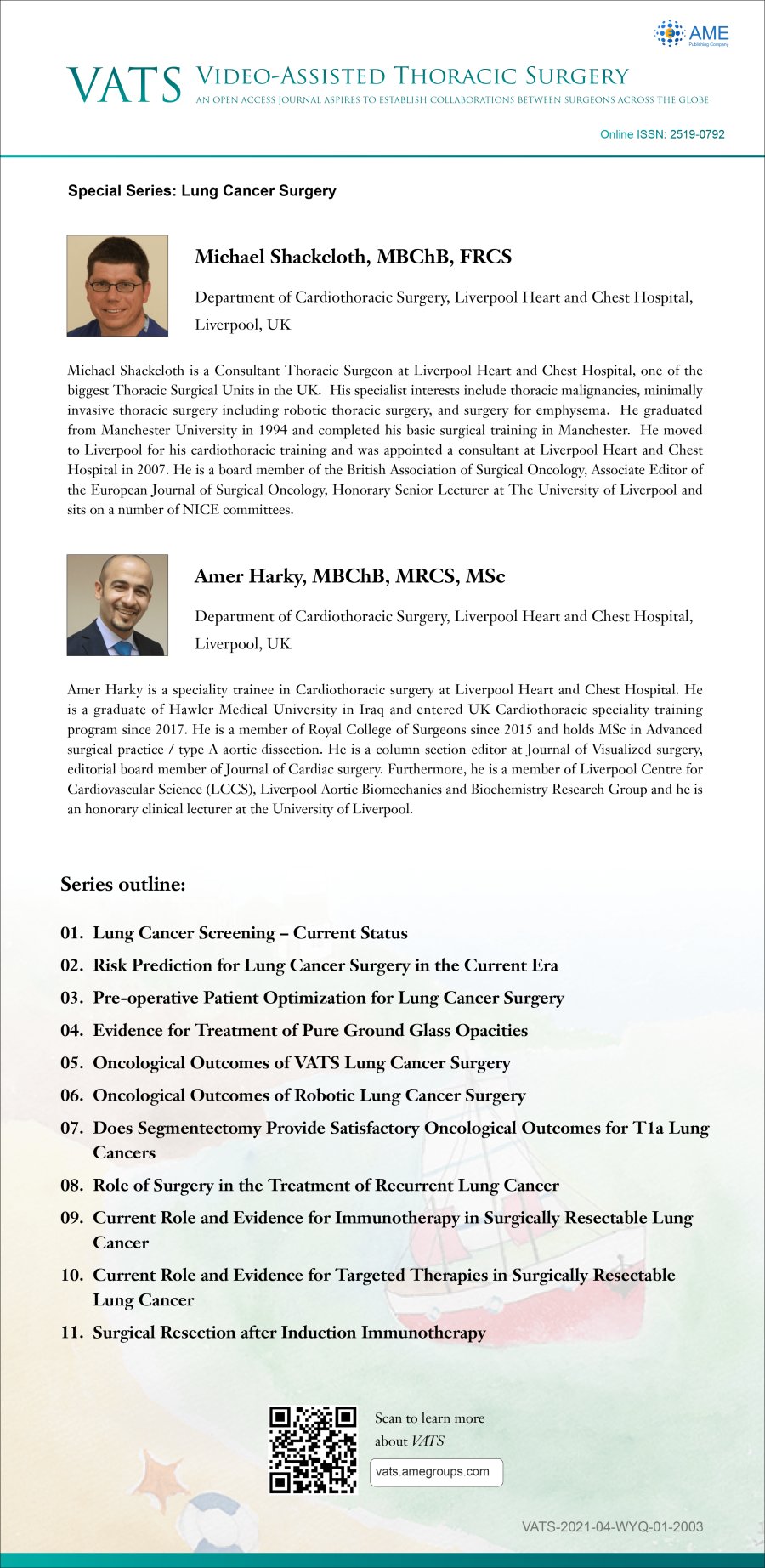 This special series on "Lung Cancer Surgery" is edited by Dr. Michael Shackcloth and Dr. Amer Harky. This Special Series aims to understand the current practice, trends and evidence in the field of Lung Cancer Surgery.
Michael Shackcloth is a Consultant Thoracic Surgeon at Liverpool Heart and Chest Hospital, one of the biggest Thoracic Surgical Units in the UK. His specialist interests include thoracic malignancies, minimally invasive thoracic surgery including robotic thoracic surgery, and surgery for emphysema. He graduated from Manchester University in 1994 and completed his basic surgical training in Manchester. He moved to Liverpool for his cardiothoracic training and was appointed a consultant at Liverpool Heart and Chest Hospital in 2007. He is a board member of the British Association of Surgical Oncology, Associate Editor of the European Journal of Surgical Oncology, Honorary Senior Lecturer at The University of Liverpool and sits on a number of NICE committees.
Amer Harky is a speciality trainee in Cardiothoracic surgery at Liverpool Heart and Chest Hospital. He is a graduate of Hawler Medical University in Iraq and entered UK Cardiothoracic speciality training program since 2017. He is a member of Royal College of Surgeons since 2015 and holds MSc in Advanced surgical practice / type A aortic dissection. He is a column section editor at Journal of Visualized surgery, editorial board member of Journal of Cardiac surgery. Furthermore, he is a member of Liverpool Centre for Cardiovascular Science (LCCS), Liverpool Aortic Biomechanics and Biochemistry Research Group and he is an honorary clinical lecturer at the University of Liverpool.
Series outline:
Lung Cancer Screening – Current Status
Risk Prediction for Lung Cancer Surgery in the Current Era
Pre-operative Patient Optimization for Lung Cancer Surgery
Evidence for Treatment of Pure Ground Glass Opacities
Oncological Outcomes of VATS Lung Cancer Surgery
Oncological Outcomes of Robotic Lung Cancer Surgery
Does Segmentectomy Provide Satisfactory Oncological Outcomes for T1a Lung Cancers
Role of Surgery in the Treatment of Recurrent Lung Cancer
Current Role and Evidence for Immunotherapy in Surgically Resectable Lung Cancer
Current Role and Evidence for Targeted Therapies in Surgically Resectable Lung Cancer
Surgical Resection after Induction Immunotherapy
Disclosure:
The series "Lung Cancer Surgery" was commissioned by the editorial office, Video-Assisted Thoracic Surgery without any sponsorship or funding. Michael Shackcloth and Amer Harky ARE serving as the unpaid Guest Editors for the series.