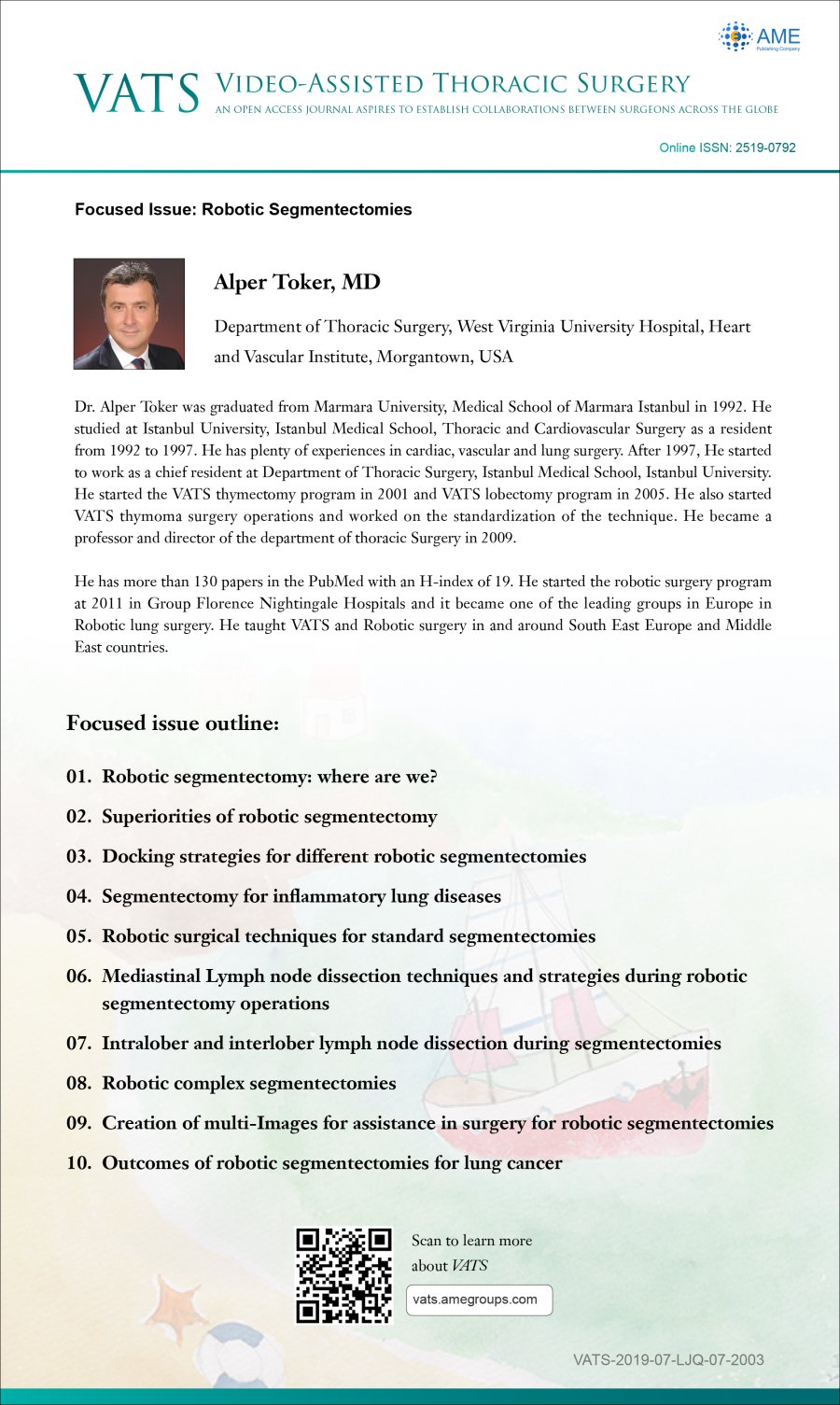 This focused issue on "Robotic Segmentectomies" is edited by Dr. Alper Toker, from Department of Thoracic Surgery, West Virginia University Hospital, Heart and Vascular Institute, Morgantown, USA.
Dr. Alper Toker was graduated from Marmara University, Medical School of Marmara Istanbul in 1992. He studied at Istanbul University, Istanbul Medical School, Thoracic and Cardiovascular Surgery as a resident from 1992 to 1997. He has plenty of experiences in cardiac, vascular and lung surgery. After 1997, He started to work as a chief resident at Department of Thoracic Surgery, Istanbul Medical School, Istanbul University. He started the VATS thymectomy program in 2001 and VATS lobectomy program in 2005. He also started VATS thymoma surgery operations and worked on the standardization of the technique. He became a professor and director of the department of thoracic Surgery in 2009.
He has more than 130 papers in the PubMed with an H-index of 19. He started the robotic surgery program at 2011 in Group Florence Nightingale Hospitals and it became one of the leading groups in Europe in Robotic lung surgery. He taught VATS and Robotic surgery in and around South East Europe and Middle East countries.
Focused issue outline:
Robotic segmentectomy: where are we?
Superiorities of robotic segmentectomy
Docking strategies for different robotic segmentectomies
Segmentectomy for inflammatory lung diseases
Robotic surgical techniques for standard segmentectomies
Mediastinal Lymph node dissection techniques and strategies during robotic segmentectomy operations
Intralober and interlober lymph node dissection during segmentectomies
Robotic complex segmentectomies
Creation of multi-Images for assistance in surgery for robotic segmentectomies
Outcomes of robotic segmentectomies for lung cancer
Disclosure:
The series "Robotic Segmentectomies" was commissioned by the editorial office, Video-Assisted Thoracic Surgery without any sponsorship or funding. Alper Toker is serving as the unpaid Guest Editor for the series.