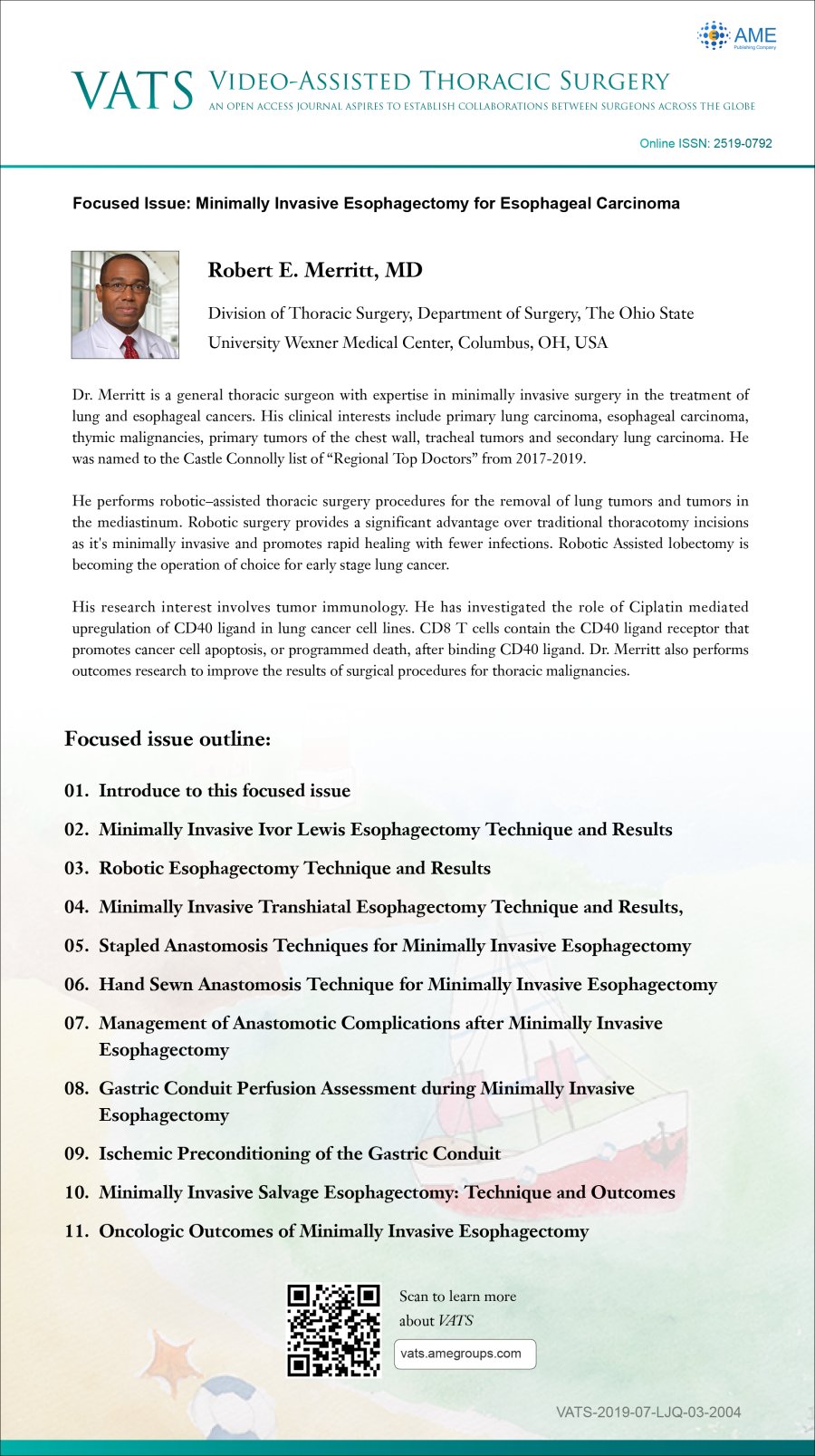 This focused issue on "Minimally Invasive Esophagectomy for Esophageal" is edited by Dr. Robert E. Merritt, from Department of Thoracic Surgery, Department of Surgery, The Ohio State University Wexner Medical Center, Columbus, OH, USA.
Dr. Merritt is a general thoracic surgeon with expertise in minimally invasive surgery in the treatment of lung and esophageal cancers. His clinical interests include primary lung carcinoma, esophageal carcinoma, thymic malignancies, primary tumors of the chest wall, tracheal tumors and secondary lung carcinoma. He was named to the Castle Connolly list of "Regional Top Doctors" from 2017-2019.
He performs robotic–assisted thoracic surgery procedures for the removal of lung tumors and tumors in the mediastinum. Robotic surgery provides a significant advantage over traditional thoracotomy incisions as it's minimally invasive and promotes rapid healing with fewer infections. Robotic Assisted lobectomy is becoming the operation of choice for early stage lung cancer.
His research interest involves tumor immunology. He has investigated the role of Ciplatin mediated upregulation of CD40 ligand in lung cancer cell lines. CD8 T cells contain the CD40 ligand receptor that promotes cancer cell apoptosis, or programmed death, after binding CD40 ligand. Dr. Merritt also performs outcomes research to improve the results of surgical procedures for thoracic malignancies.
Focused issue outline:
Introduce to this focused issue:
Minimally Invasive Ivor Lewis Esophagectomy Technique and Results
Robotic Esophagectomy Technique and Results
Minimally Invasive Transhiatal Esophagectomy Technique and Results
Stapled Anastomosis Techniques for Minimally Invasive Esophagectomy
Hand Sewn Anastomosis Technique for Minimally Invasive Esophagectomy
Management of Anastomotic Complications after Minimally Invasive Esophagectomy
Gastric Conduit Perfusion Assessment during Minimally Invasive Esophagectomy
Ischemic Preconditioning of the Gastric Conduit
Minimally Invasive Salvage Esophagectomy: Technique and Outcomes
Oncologic Outcomes of Minimally Invasive Esophagectomy