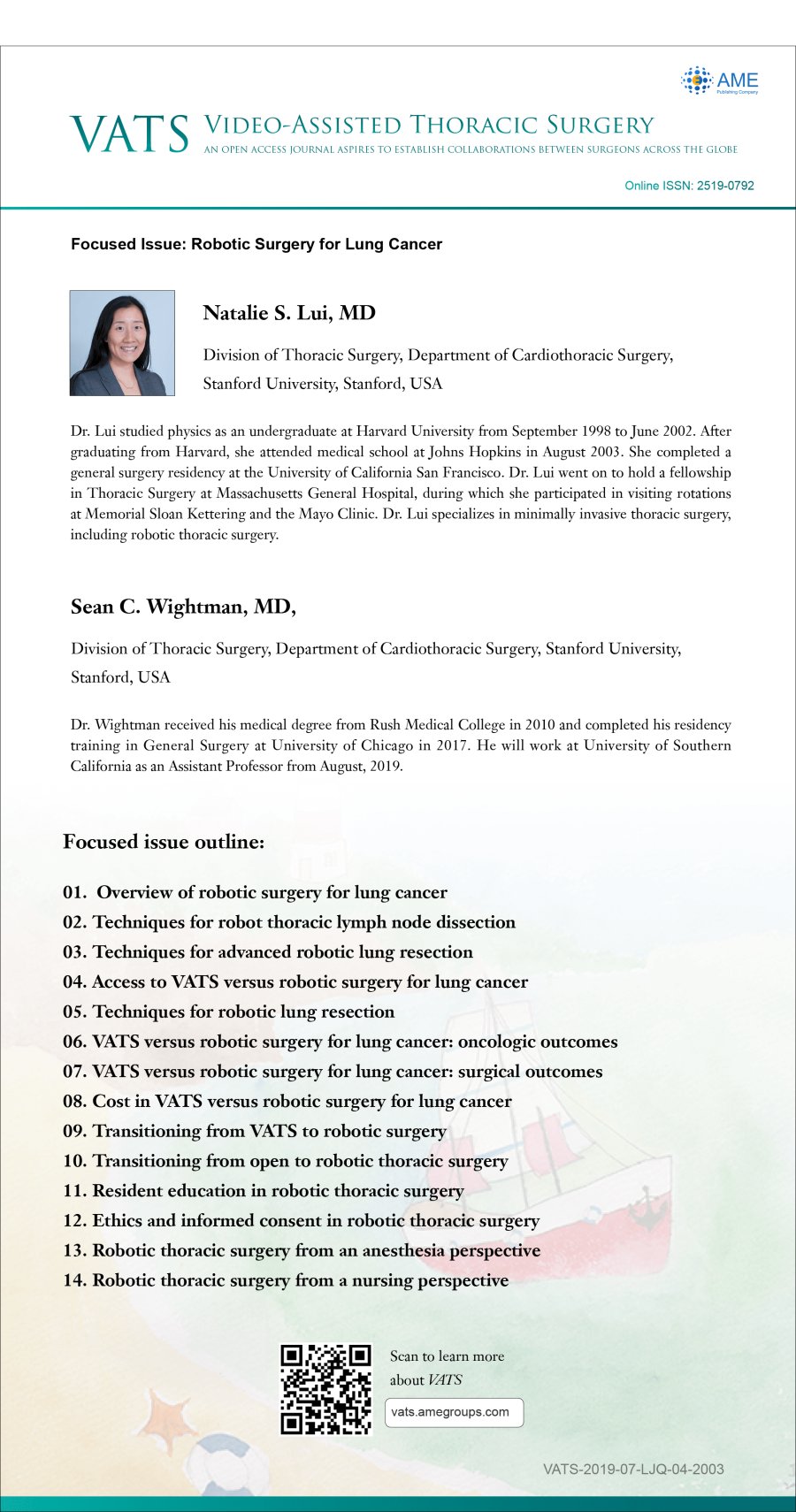 This focused issue on "Robotic Surgery for Lung Cancer" is edited by Dr. Natalie S. Lui and Dr. Sean C. Wightman, from Division of Thoracic Surgery, Department of Cardiothoracic Surgery, Stanford University, Stanford, USA.
Dr. Lui studied physics as an undergraduate at Harvard University from September 1998 to June 2002. After graduating from Harvard, she attended medical school at Johns Hopkins in August 2003. She completed a general surgery residency at the University of California San Francisco. Dr. Lui went on to hold a fellowship in Thoracic Surgery at Massachusetts General Hospital, during which she participated in visiting rotations at Memorial Sloan Kettering and the Mayo Clinic. Dr. Lui specializes in minimally invasive thoracic surgery, including robotic thoracic surgery.
Dr. Wightman received his medical degree from Rush Medical College in 2010 and completed his residency training in General Surgery at University of Chicago in 2017. He will work at University of Southern California as an Assistant Professor from August, 2019.

Focused issue outline:
Overview of robotic surgery for lung cancer
Techniques for robot thoracic lymph node dissection
Techniques for advanced robotic lung resection
Access to VATS versus robotic surgery for lung cancer
Techniques for robotic lung resection
VATS versus robotic surgery for lung cancer: oncologic outcomes
VATS versus robotic surgery for lung cancer: surgical outcomes
Cost in VATS versus robotic surgery for lung cancer
Transitioning from VATS to robotic surgery
Transitioning from open to robotic thoracic surgery
Resident education in robotic thoracic surgery
Ethics and informed consent in robotic thoracic surgery
Robotic thoracic surgery from an anesthesia perspective
Robotic thoracic surgery from a nursing perspective